Previous Exhibition:
The Opening Reception was held Saturday, July 1, 2017 / 2 - 5 pm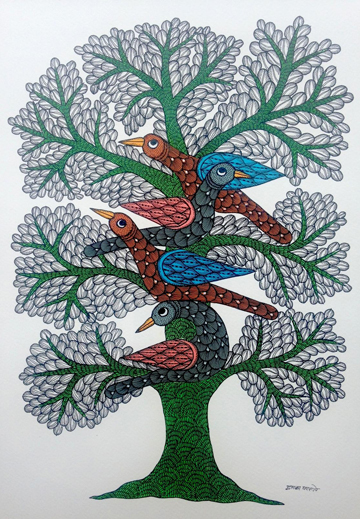 Bird on Tree
Dwarka Parste
Gond art is a form of tribal painting that is practiced by one of the largest tribes in India with whom it shares its name. The origin of the Gonds can be traced to the pre-Aryan era. The Gonds traditionally painted on mud walls of their houses. Starting in the early 1980s, certain talented Pardhan Gonds, who traditionally serve as professional Bardic priests, began transforming their ritual performing arts into a new tradition of figurative and narrative visual art. Using a variety of modern media, they have created unprecedented depictions of their natural and mythological worlds, traditional songs and oral histories. Rich in detail, color, mystery and humor, these works employ modern means to evoke the pre-modern psyche.
The Gond people have a belief that viewing a good image begets good luck. This belief led the Gond people to decorate the walls as well as the floor of their houses with traditional tattoos and motifs. Gond paintings have also been used by the Gond people as a way to record their history.
According to the Gond belief system, each and everything whether it is a hill, river, rock or a tree is inhabited by a spirit and, consequently, is sacred. For this reason, Gond paintings are a form of respect and reverence. Gond paintings are a reflection of their close connection with their natural surroundings. However, while a majority of Gond paintings do take inspiration from nature, it isn't the only source of inspiration. Gond paintings can also take inspiration from myths and legends of India or alternatively, they may also showcase images from the daily lives of the tribe. It can also showcase abstract concepts like emotions, dreams and imagination.
View Exhibition:
The Beatrice Wood Center for the Arts is Open to the Public
Fri, Sat, & Sun 11:00 am - 5:00 pm.
8585 Ojai-Santa Paula Road, Ojai, CA 93023
805.646.3381
Driving Directions