Intern Program
The Beatrice Wood Center for the Arts Intern Program is designed to provide experience to individuals who are seeking to make a living in the art world, whether as artists or in the realm of galleries and museums. Beatrice Wood's creative, yet pragmatic and disciplined approach is central to the internships, which are led by Kevin Wallace, Director of the Center, who has decades of experience in gallery management and curating museum exhibitions, as well as speaking and writing on the arts. The focus is on navigating the contemporary art world, establishing a career and, in the case of artists, creating an identity and marketable body of work.
The ideal candidate has completed university studies and is ready to begin their career. In the past, interns had to be recommended by a university instructor, but we are now interviewing potential interns to select participants. Artists explore series of work through studying art from diverse cultures and learning new techniques, while those interested in working within the realm of galleries and museums focus on arts administration.
Internships can be experienced as one-month intensives, or can be scheduled in accordance with work and school schedules.
Cost: $950. Includes use of the studio and library, as well as essential tools and materials. Participants are responsible for their own lodging.
Information regarding partial scholarships is available upon request.
Tel: (805) 646-3381
Email: BeatriceWoodCenter@gmail.com

Beatrice Wood
Photo by Tony Cunha

"We all have various gifts, and discipline has been one of mine… possibly because I recognized early that I had a dreamy, unworldly way of looking at the world. Having a glimpse of actuality, I recognized the importance of discipline – discipline from the inner self, not imposed from the outside. Few things get accomplished without this willingness to be meticulous in work."

– Beatrice Wood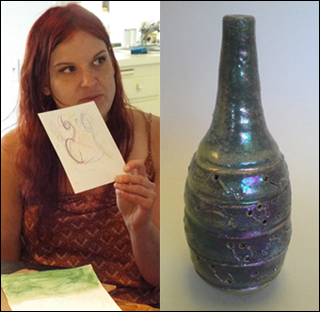 Kristin Henderson | Bottle of Secrets Series

| | |
| --- | --- |
| Alex Grim | Chimera Series | Karina Jimenez | Bridged Vessel Series |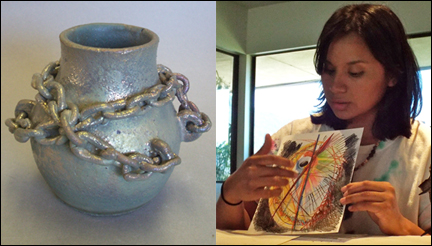 Esther Perez | Chained Vessel Series