Previous Exhibition:


The Opening Reception was held Saturday, July 9, 2016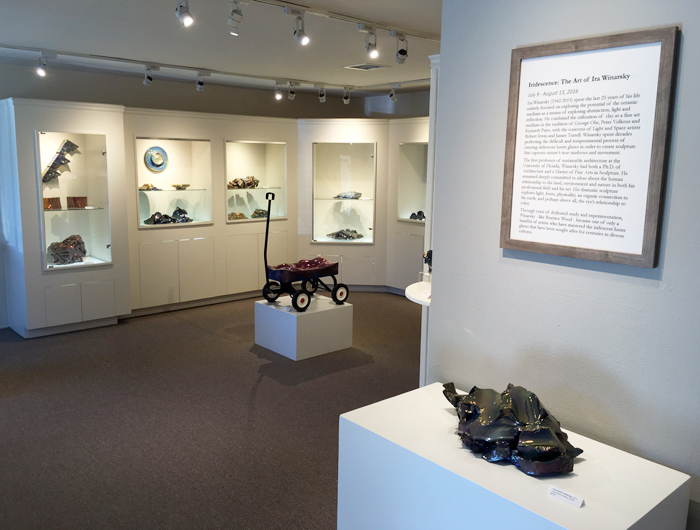 Ira Winarsky Exhibition in the Beato Gallery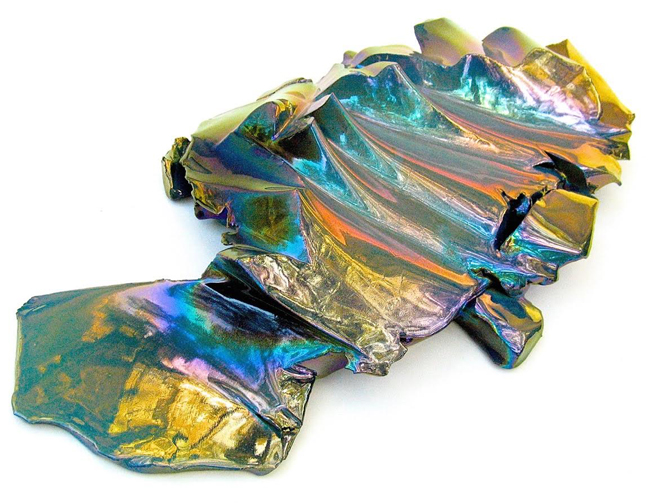 Terrestrial Landscape, 2010
Lustre-fired ceramic
$6500
Iridescence: The Art of Ira Winarsky shares the artist's reinvention of ceramic sculpture as a means of exploring abstraction, light and reflection. Sculptor and artist Ira Winarsky (1942-2015) spent the last 25 years of his life entirely focused on exploring the potential of the ceramic medium. The artist explored bold new approaches by utilizing clay as a fine art medium in the spirit of George Ohr, Peter Volkous and Kenneth Price, in connection with the concerns of Light and Space artists Robert Irwin and James Turrell. Winarsky spent decades perfecting the difficult and temperamental process of creating iridescent lustre glazes in order to create sculpture that captures nature's true rainbows and movement, from a shimmering sunset on water, to the delicate prism of a peacock's feather, to bird's eye views of the landscape.
Watch Video
Ira Winarsky - Artist, Architect, and Professor
Published on Feb 6, 2015 by Jeff Williams - Documentation of the life and philosophy of an inspiring artist with multiple skills in architecture and interactive art. Mr. Winarsky's masterpieces focused on iridescent glazes on ceramic sculpture. These glazes created an interaction between the artwork and the viewer. Ira Winarsky dedicated his life to teaching at the University of Florida for 35 years and retired in 2007 to focus on his fine art work. This video is dedicate to all he gave as a teacher and artist. Ira Winarsky September 6, 1942 - January 4, 2015.
Daybreak Vessel, 2008

Lustre-fired ceramic
$1500

Pink Bowl, 2011

Lustre-fired ceramic
$1000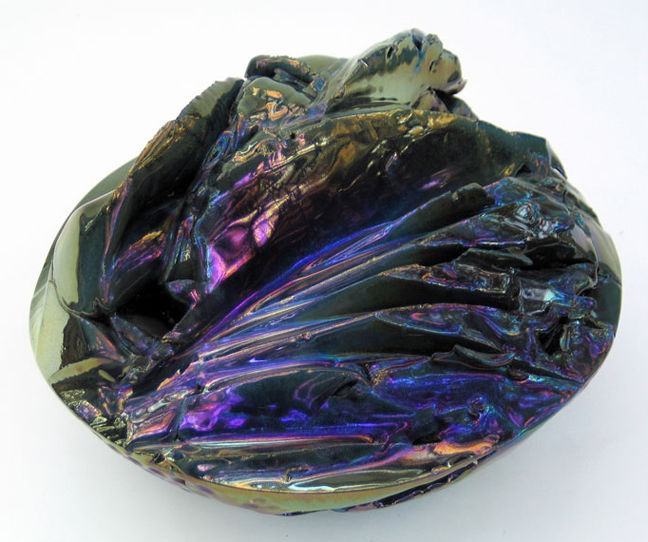 Nasa Landscape #2
9-5/8" dia x 6-1/2" h
The first professor of sustainable architecture at the University of Florida, Winarsky had both a Ph.D. of Architecture and a Master of Fine Arts in Sculpture. He remained deeply committed to ideas about the human relationship to the land, environment and nature in both his professional field and his art. His dramatic sculpture explores light, form, physicality, an organic connection to the earth, and perhaps above all, the eye's relationship to color. Through years of dedicated study and experimentation, Winarsky became one of only a tiny handful of artists who have mastered the iridescent lustre glazes that have been sought after for centuries in diverse cultures.
Wave Landscape Grid, 2009
Lustre-fired ceramic
3-3/4" h x 27" w x 25-1/2" d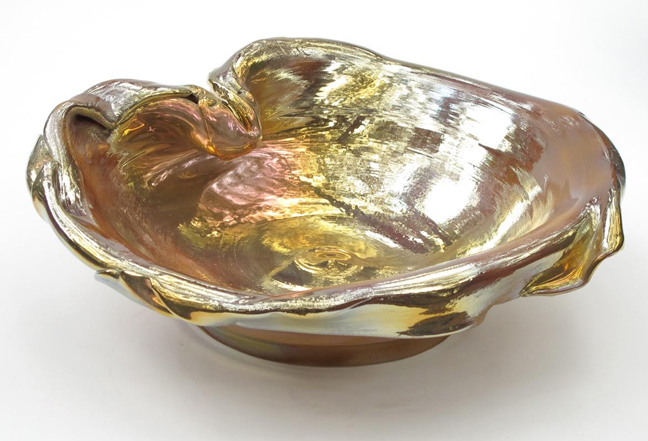 Erotic Bowl, 1991
Lustre-fired ceramic
$5000

Underground Landscapes: Cliffs, 2005

Lustre-fired ceramic
4-1/4" h x 11-1/2" w x 7" d | $3000

Exotic Nest, 2005

Lustre-fired ceramic
4" h x 9" w x 9-1/2" d | $3000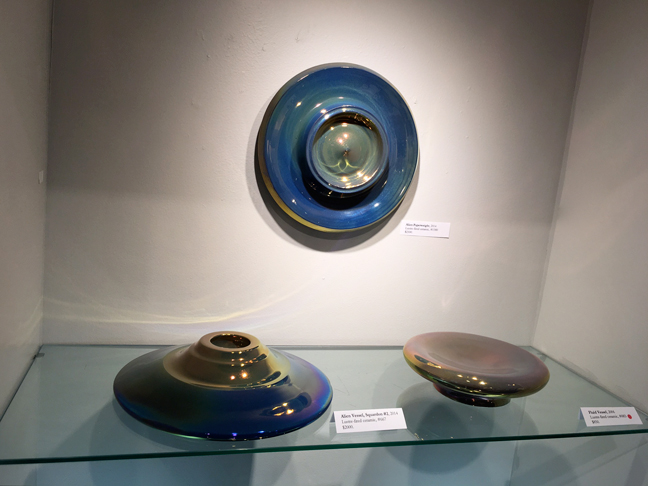 Ira Winarsky Exhibition in the Beato Gallery
Top: Alien Paperweight, 2014 | Lustre-fired ceramic | $2500
Left: Alien Vessel Sqardon #2, 2014 | Lustre-fired ceramic | $2000
Right: Fluid Vessel, 2006 | Luster-fired ceramic | $850 SOLD
Winarsky's final oeuvre of iridescent, abstract ceramic landscapes represents a truly unique accomplishment, not in the least because of the rich complexity of Winarsky's iridescence. The form of the art transforms light into rainbows of color with its fine glazed surface—earthy while still being deeply human: reflections of "one's self, one's room, one's nature." They range from figurative to abstract, wrestling with ideas about emulating nature, both environmental and human; representing form and movement—of land and of bodies; intimacy and distance.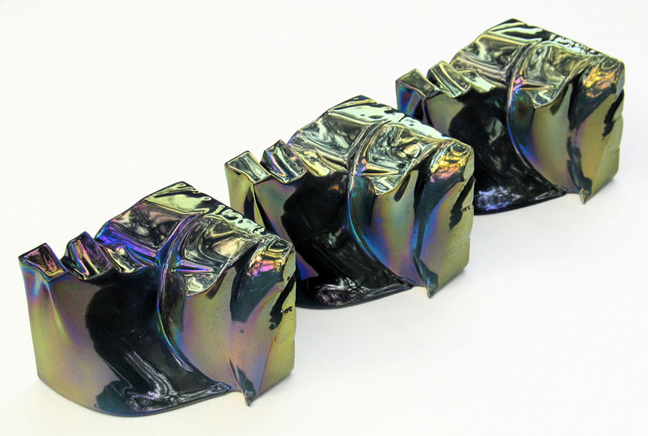 Repeating Landscape, 2007
Lustre-fired ceramic
5" h x 5-3/4" w x 17"d | $4500
The landscapes are deeply informed by his interest in architecture, a nuanced take on the relationship between land and structure, land and geometry. They are vertical landscapes, landscapes that fit together, landscape sections, and water-related landscape environments. They are also anthropological landscapes: always concerned with the relationship to the viewer, whose self is reflected in them, and to humanity.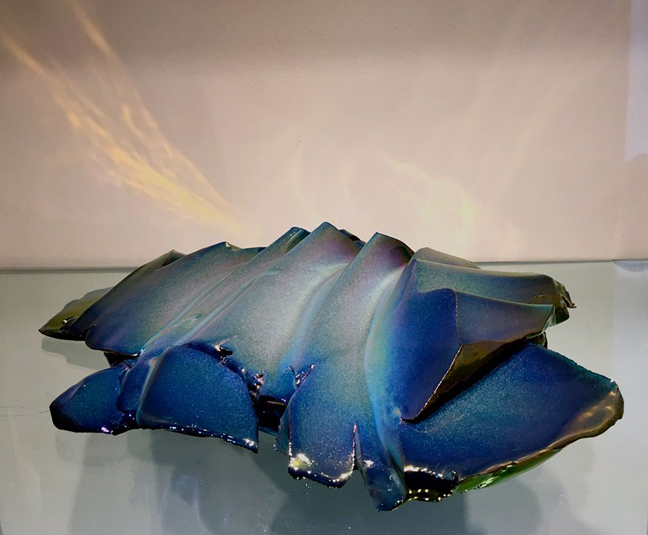 Terrestrial Landscape, 2009
Lustre-fired ceramic
$6500
"All iridescent art is a kind of miracle," Winarsky wrote. This first major exhibition of the artist's work shows just how true that is.

Ira Winarsky Exhibition in the Beato Gallery