Previous Exhibition: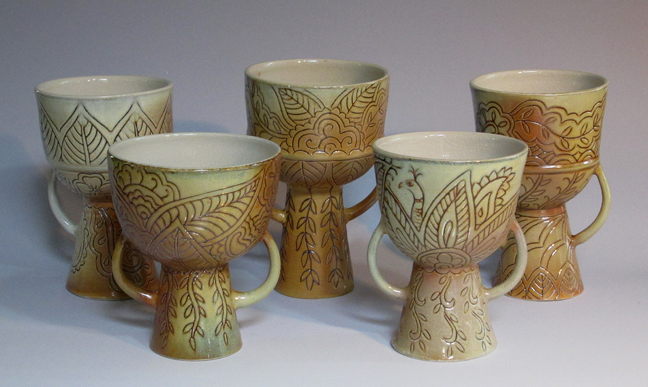 Lauren Hanson
Beato Goblets
Salt-fired porcelaneous stoneware | 5" to 7" | $65. to $85. each
"The Beato Goblets are covered with Mehndi designs. No two are alike in pattern or shape and size."

The illustrative ceramics of Lauren Hanson are born of an early grounding in drawing, painting and art history. While the artist's approach is considerably different than Beatrice Wood, Hanson finds that they have many similarities, as she too came to ceramics relatively late in life, and has a passion for nature, art books, the human condition, vegetarianism and of course, chocolate. In Hanson's work, these interests are etched and painted on traditional ceramic forms, reflecting and celebrating the natural world, with scenes featuring birds, plants and trees wrapped around vessel forms.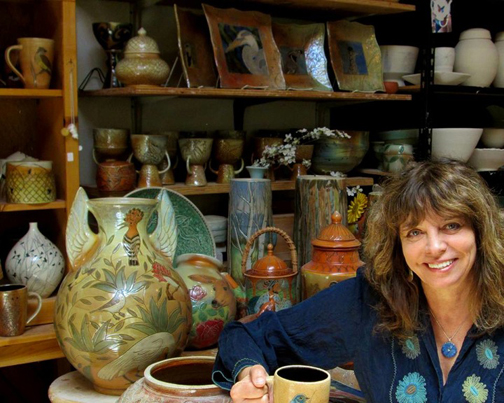 Lauren Hanson in her Studio

The artist's works often feature subtle commentary, which manifests in various ways. A vessel in the style of an early American salt-fired jug features the extinct Passenger Pigeon; a bird that thrived during the era that style of pottery was in use. Forms and designs with references to historical Persian art feature Islamic women expressing their femininity, simultaneously wearing gold purses or red high heels while adhering to religious dress codes.
Throughout Hanson's work, the relationship between humans, nature and culture are explored through form, line, pattern and color, making clear the expressive potential of the ceramic medium.
Bird Portrait Series
"These works honor our local birds. The 'frames' have impressions from their habitats."
Extinct Bird Series
"In this series, birds that are now extinct are depicted on pottery forms similar to the ones being made in America at a time when these birds were still thriving. The names of the birds are stamped into the clay the way the Early American pottery company names were stamped. The back sides of some of the pieces show the birds as they can be found in the drawers of natural history museums today -- stuffed and with tags on their feet."
Tree Vases Series
"The tree vases are inspired in part by the Arts and Crafts Era tree vases. The cylindrical forms suggest the tree trunks. Some of the forms, like the Aspen Vase and Sycamore Vase, are deliberately manipulated to be a little bent and irregular like the trees depicted. Some also have a couple of hidden birds that one might see in those trees. The Pine Forest has some other hidden animals."
Bird Cups
"The names of the birds are inscribed on the bottom of each cup. There is a bird on each side, usually a male and a female, sometimes an immature version of the bird is on one side."
Small Bird Jars
Cookie Jars
Botanicals
Mogul Series
Scheherazade Series
Other Works
The Beatrice Wood Center for the Arts is Open to the Public
Fri, Sat, & Sun 11:00 am - 5:00 pm.
8585 Ojai-Santa Paula Road, Ojai, CA 93023
805.646.3381
Driving Directions