Schedule of Events
Recent Special Event
Liam O'Gallagher's

The 4th World

FREE EVENT
Saturday, August 10, 2013
7:00 - 8:00 pm
Reception following event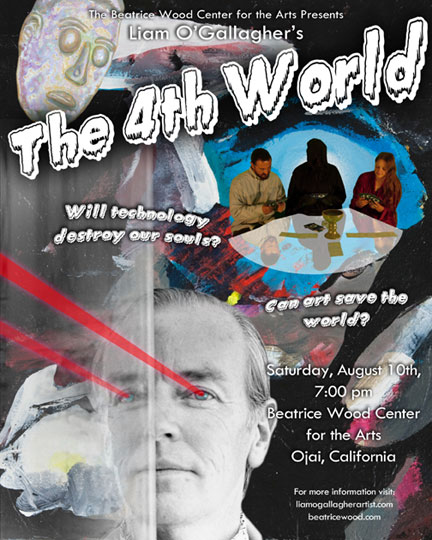 The 4th World is a collaborative multimedia event featuring video projection, living theater, and a musical performance by the Suburbanoid Fatties. This experiment in contemporary Dadaism was created in conjunction with college and university students participating in our intern program. The story concerns three characters navigating the 21st century, focusing on the dangers of Internet addiction and the shamanic role of artists in providing balance and healing.
This free event will be presented on Saturday, August 10th from 7 - 8 pm and will be followed by a reception.
The 4th World will be videotaped and shared with those of you who are unable to attend.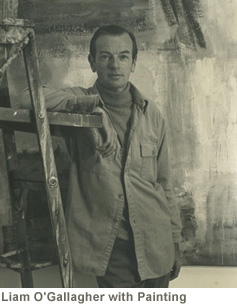 Liam O'Gallagher was an avant-garde artist and teacher who pushed past the known boundaries of contemporary expression. His work included paintings, poetry, graphic work, short stories, performance pieces, and experiments with sound. He was also integral to the creation of foundations and centers for human growth, progressive thought and the arts - including the Beatrice Wood Center for the Arts.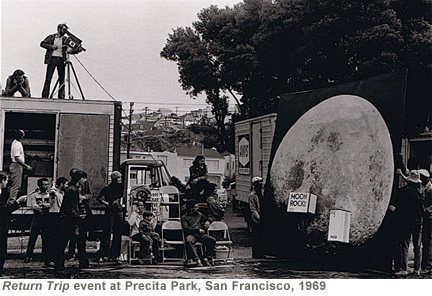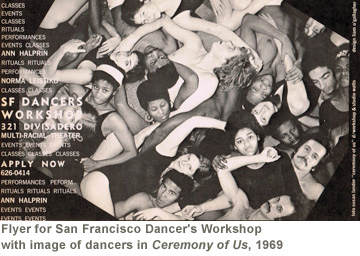 Please call 805-646-3381 or email BeatriceWoodCenter@gmail.com for more information about this special event.
Click for Driving Directions

Visit the Liam O'Gallagher website:
www.liamogallagherartist.com for more information about Liam O'Gallagher.
View archives of our past events
Join Our Email List
Stay informed on upcoming events at the Beatrice Wood Center for the Arts!
To receive news and event accouncements, please email BeatriceWoodCenter@gmail.com
and ask to be added to our email list.
Thank you!