Education
Upcoming Workshop
Presented by Cord International Media Group

Stephen Inglis is a wizard of the slack key guitar, a gifted singer-songwriter, and one of Hawaii's greatest musicians of his generation. With a strong respect for tradition, Inglis pushes the slack key guitar into delightful new territory crossing genres and redefining what you would traditionally think of as Hawaiian slack key. This is a rare opportunity to study with Stephen in an up close and personal intimate environment.
Traditional slack key is the heart of his sound, but the fusion of many other traditions including jazz, blues, country, rock, and old-school Hawaiian make Inglis' sound truly modern folk... with a twist, and a wonderful surprise or two. His music is fresh, clean, and genuine.
The workshop will focus on skills essential to mastering the slack key style and will explore Stephen's unique fingerstyle techniques allowing participants to expand their playing horizons in Hawaiian slack key.
Workshop Cost: $40.00 per person
Participants MUST BRING a steel or nylon 6-String Guitar and Tuner.
No experience necessary.
Reserve your space now!
Stephen is on tour celebrating the release of his new album, Cut The Dead Some Slack.
Blair Jackson, Grateful Dead Historian & Author on Cut The Dead Some Slack:
"In the end, this miraculous fusion, years-in-the-planning, has FAR exceeded whatever lofty expectations I originally had for the once-mythical slack key DEAD album. All I can say is "Mahalo plenty, Stephen Inglis!"... because somewhere out there, Dennis Kamakahi, Gabby Pahinui, and yes, Jerry Garcia are smiling..."
Stephen Inglis holds one impressive resume. Barely out of his teens in 1998, Inglis began his career as a rock guitarist forming a band with the legendary Grateful Dead drummer Bill Kreutzmann. He still has those chops today but his career skyrocketed with his development as a virtuoso of the Hawaiian slack key guitar. In 2009 his original composition Redwood Slack Key was nominated for a Grammy by the National Academy of Recording Arts and Sciences. Stephen won the 2011 Hawaii Music Award for Folk Album of the Year. In 2012 Inglis recorded a duets album with legendary Hawaiian music icon, the late Rev. Dennis Kamakahi, earning him Hawaii's highest musical honor, a Na Hoku Hanohano Award from the Hawaii Academy of Recording Arts. That CD is held in such high esteem that it is on permanent display at the Smithsonian in Washington, DC. Stephen also took home a second coveted Na Hoku Hanohano Award from the Hawaii Academy of Recording Arts for the 2013 honors.
Stephen Inglis "Cassidy"
Dead Covers Project 2018 from Stephen Inglis' new album "Cut The Dead Some Slack"
"I would definitely call Stephen Inglis a creative innovator. He's making a huge contribution to the continuing evolution of slack key guitar with his original compositions and his slack key interpretations of classics. I didn't think it was possible to elevate Dylan and The Dead to an even higher level, yet Stephen manages to do just that with a sophistication that is brilliant. He is trailblazing. He's pushing slack key guitar somewhere it's never been before."
~ Maryann Cord, Co-Founder & CEO Cord International
Ojai native and resident Maryann Cord, Co-Founder & CEO of Cord International Media Group is producing the workshop and promoting the concert for Beatrice Wood Center for the Arts cultural programming. Cord International's Hana Ola Records is known as the first name in vintage Hawaiian music, a music recording and licensing company passionately dedicated to preserving, restoring and releasing lost real Hawaiian music, with a huge catalog of recordings.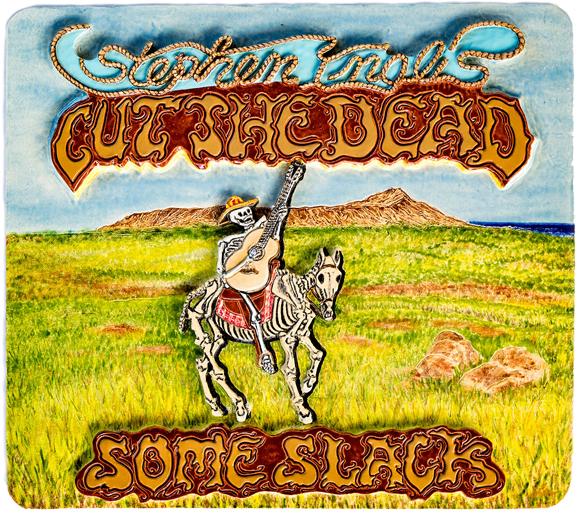 With Grammy Nominated
Na Hoku Hanohano Award Winning
Hawaiian Slack Key Guitarist
Stephen Inglis
Friday, May 11, 2018 / 7:00 pm - Doors open at 6:30 pm
Logan House
TICKETS: $25
Presented by Cord International Media Group
VIEW EVENING PERFORMANCE INFORMATION

The Beatrice Wood Center for the Arts
Tel: 805-646-3381, Email: BeatriceWoodCenter@gmail.com.

Our workshops and classes all take place at the Beatrice Wood Center for the Arts (driving directions).
Learn more about our workshops and view additional photos on Facebook. Click here!
Please call 805-646-3381 or email BeatriceWoodCenter@gmail.com for more information on our exhibitions, workshops, and performances.