Ongoing Educational Activities
This workshop utilizes a Journal created by Binh Pho and Kevin Wallace based upon the books River of Destiny: The Life and Work of Binh Pho and Shadow of The Turning. This workshop will be led by Kevin Wallace and participants will utilize the Embracing Destiny Journal as a means of exploring life through the process of journaling and opening up to the potential of creative writing and living.
"Getting to know Binh Pho, I found that we both embraced the rather old-fashioned concept of Destiny – a way of viewing life that is often obvious in retrospect, but challenging to embrace as life unfolds," Wallace says. "In writing a book on his life, a structure revealed itself that is based on six words: Dream, Believe, Transform, Journey, Destiny, and Live."
Writing the second book, a work of fiction, this same structure was engaged. The Embracing Destiny Journal is a means of allowing others to take these ideas to explore their own lives and creative processes.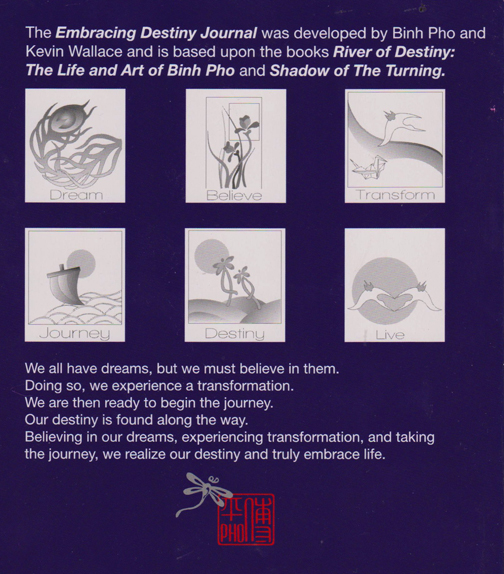 Embracing Destiny Journal - Back Cover
In 2006, the book River of Destiny: The Life and Work of Binh Pho was published in conjunction with an exhibition of the artist's work at the Long Beach Museum of Art. A collaboration between artist Binh Pho and writer/curator Kevin Wallace, the book juxtaposed the artist's work with his life story, Vietnamese history and myth and an exploration of symbolism and philosophy. The exhibition received rave reviews and was enthusiastically received by museum visitors, and the book continues to make an impression upon readers, allowing them to experience Binh Pho's work and his life's journey.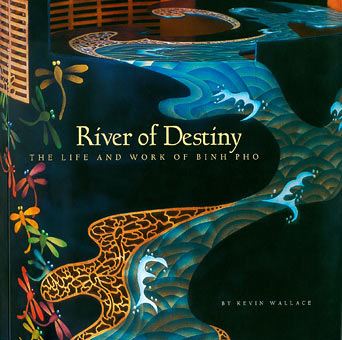 River of Destiny - Book Cover
By the time the book was published, the two had already begun discussing another collaboration. River of Destiny had covered Pho's childhood in Vietnam, eyewitness accounts of the Fall of Saigon, life in a Communist prison camp, his daring escape and new life in the United States of America. They decided to move beyond biographical exploration to take a bold, visionary approach to the new project.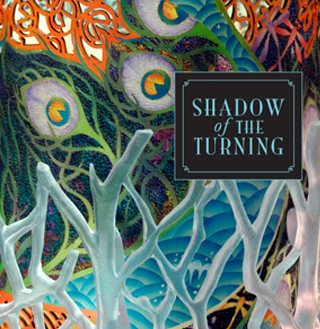 Shadow of The Turning - Book Cover
Shadow of The Turning, like its predecessor, focuses on art, philosophy and storytelling, yet is an entirely fictional story, blending the mythic worlds of fairy tale, fantasy, romance and adventure. It creates a bridge between literature, art world approaches to concept and narrative and craft traditions. The story is "illustrated" using an exciting new body of work by Binh Pho, created in collaboration with an international group of artists.
Visit www.shadowoftheturning.com for more information.
Watch Video: Shadow of The Turning, The Art of Binh Pho
Kevin Wallace, Director of the Beatrice Wood Center for the Arts & Happy Valley Cultural Center, will lead this workshop. As a curator and writer, Wallace works with museum curators and collectors to place works of art in the permanent collections of leading museums, is a regular contributor to numerous international publications, and regularly speaks on the subject of art and craft.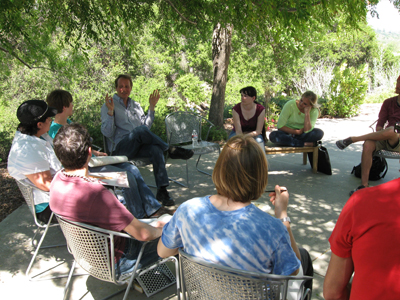 Kevin Wallace Teaching at the Center

Wallace has guest-curated exhibitions for the Los Angeles County Museum of Art, the Craft and Folk Art Museum, Los Angeles, the Long Beach Museum of Art, the Cultural Affairs Department of Los Angeles, the Los Angeles International Airport, and the San Luis Obispo Art Center.
Books include Celebrating Nature: Craft Traditions/Contemporary Expressions; Transforming Vision: The Wood Sculpture of William Hunter, 1970-2005; River of Destiny: The Life and Work of Binh Pho; Moulthrop: A Legacy in Wood; Every Exit is an Entry: The Life and Work of Liam O'Gallagher, The Cutting Edge: Contemporary Wood Art & The Lipton Collection, and Shadow of The Turning.
Wallace has also co-authored a number of books, including New Masters of Woodturning: Expanding the Boundaries of Wood Art; The Art of Vivika and Otto Heino; Michael Peterson: Evolution/Revolution; Contemporary Turned Wood: New Perspectives in a Rich Tradition; Baskets: Tradition & Beyond; and Contemporary Glass: Color, Light & Form.
"Our educational programming at the Center is concerned with sharing knowledge and opening people up to the wonderful world of creative expression," Wallace says. "Everything I know I learned from others and I have been fortunate to know and work with so many fascinating artists, collectors, dealers, curators and writers."
Please contact the Center for more information.
Cost: $75. Includes a copy of the Embracing Destiny Journal.
For workshop registration, please contact:
The Beatrice Wood Center for the Arts
Tel: 805-646-3381 or email us at BeatriceWoodCenter@gmail.com.

Our workshops and classes all take place at the Beatrice Wood Center for the Arts (driving directions).
Learn more about our workshops and view additional photos on Facebook. Click here!
Please call 805-646-3381 or email BeatriceWoodCenter@gmail.com for more information on our exhibitions, workshops, and performances.