Education
Upcoming Workshop
Presented by Cord International Media Group

Jim Kimo West & Ken Emerson are both living legends in the world of Hawaiian slack key and acoustic steel guitar. This is a rare opportunity to study with both master players on the same day, up-close and personal.
Played from the heart and soul through the fingers, and flowing with vivid tropical images, Hawaiian slack key is truly one of the great acoustic guitar traditions in the world. In slack key, some of the strings are slacked from the standard tuning, with the thumb playing the bass while the other fingers play the melody and improvise in a finger-picked style.
The Hawaiian steel guitar is considered THE signature sound of island music. Differentiated by its sliding bars, fret adapters, and finger pickings, it revolutionized the music of Hawaii and widened its appeal to global proportions, also influencing countless music genres.
Slack key and acoustic steel guitar masters Ken Emerson and Jim Kimo West present an intimate learning experience for beginning to intermediate level students.
Slack key guitar students will get specialized instruction from both Ken and Kimo, who will share their individual styles and techniques.
Class will start off with chord progressions, riffs, turnarounds and classic songs in the Open G or "Taro Patch" tuning and then move to the "Drop C" tuning.
Steel guitar students will get specialized instruction from Ken who will share his unique SLACK/STEEL technique, bar slants, harmonics and sound effects.
Adding to the mix will be a short performance, some "talk story" and a Q & A forum.
Additional tunings & techniques will be covered on request.
Workshop Cost: $40.00 per person
Chord Dictionary and Tabs will be provided.
Participants MUST BRING a steel or nylon 6-String Guitar and Tuner.
Video & Audio Recording is ENCOURAGED.
No experience necessary.
Reserve your space now!
Ken Emerson is one of the world's most highly regarded traditional Hawaiian slack key & steel guitarists living today. He is a monster player of both and he switches easily between them during his performances, laying his guitar on his lap and picking up a steel bar for an instrumental interlude. Emerson is famous for his one-of-a-kind slack/steel style playing of vintage acoustic metal bodied National Resonator guitars.
Emerson's unique playing style reflects the Hawaiian guitar's grassroots origins of over a century ago. He has developed his unique style through many musical genres. He has played his special blend of Blues/Jazz Hawaiian guitar for 40+ years. Born into a musical family, Emerson grew up with his fathers' extensive record collection of jazz, swing, Hawaiian and world music styles.

Ken Emerson and Jim Kimo West Perform "Wai O Ke Aniani"
Living in the San Francisco Bay Area, Emerson played the folk and blues songs of the early '60s, a lefty learning right hand finger-style techniques that led to his development as a finger-style picker. With the explosion of the San Francisco sound of the mid-later '60's Ken also immersed himself into rock and electric blues styles. He was particularly drawn to bottleneck and slide guitar.
In 1968 Ken's family moved to Hawaii. Absorbing the Hawaiian culture, Ken began studying Hawaiian language and music emulating the players of the 1920's and '30s era by listening to vintage Hawaiian 78 rpm records, zeroing in on the jazz and blues styles of Sol Ho'opi'i and Sol K. Bright. Soon Emerson was playing alongside such legendary performers as Gabby Pahinui, Genoa Keawe, Raymond Kane, Moe Keale and Auntie Alice Namakuela.
Emerson won the prestigious Kahili Award for perpetuating Hawaiian culture, and was a featured artist and composer on the first-ever National Academy of Recording Arts & Sciences Grammy Award winning Best Hawaiian Album. Emerson's playing was also featured on Donald Fagen's (Steely Dan) Grammy Award winning Morph the Cat. He has many additional touring/recording credits including Jackson Brown, Boz Scaggs, Charlie Musselwhite, Taj Mahal, and Elvin Bishop.
Emerson has helped lead the way in resurrecting the traditions of vintage Hawaiian music, tapping into classic jazz & blues influences along the way. Emerson has performed on at least a dozen Cord International - Hana Ola Records compilations with five solo releases on that label. Dividing his time between Kaua'i and San Francisco, Ken plays many Hawaiian venues and festivals and frequently tours the United States as well as Europe and Asia.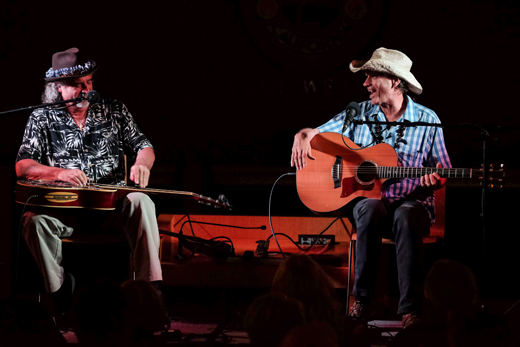 Ken Emerson & Jim Kimo West Performing
Jim Kimo West is recognized as one of the world's top slack key guitarists bringing his own unique musical perspective to this great acoustic guitar tradition. Besides his solo slack key career, West is best known as the long-time guitarist on CDs and tours for the world's most famous musical satirist, "Weird Al" Yankovic whose recent CD, Mandatory Fun debuted at #1 on the Billboard charts and won the Grammy for Best Comedy Recording. West is also a prolific composer with a generous output of new, exciting slack key guitar originals. In addition he writes and produces music for too numerous to mention feature films and television shows.

Jim Kimo West Discusses and Plays Slack Key Guitar
A Canadian native, West grew up in Florida and was playing professionally in various rock bands by age 16. A decade later he landed in Los Angeles and began working with "Weird Al" Yankovic. West can be heard on and seen in all of Yankovic's iconoclastic videos, albums, and concerts playing guitar.
In 1985 to decompress after a long summer Weird Al tour, Jim made his first trip to Hana, Maui. He fell in love with the culture and the physical landscape of Hawaii. As the sounds of Gabby Pahinui, the Sons of Hawaii, Sonny Chillingworth, The Sunday Manoa, and others played on the turntable, Jim jammed along for fun and relaxation. Already a long-time devotee of open tunings, he was immediately drawn to the gentle rhythms of the slack key guitar and soon began writing his own songs. West didn't concentrate on learning the standard riffs and songs but instead developed his own unique slack key vocabulary which now defines his very unique approach to this great tradition.
While always retaining the heartfelt essence of traditional slack key, Jim Kimo West brings his own musical heritage to his original slack key instrumentals. His style can best be described as nahenahe, a Hawaiian term that means soft, sweet, or of gentle voice - a fusion of old and new deeply rooted in tradition. Kimo's seven slack key CD's have garnered him much praise and well over 75 million streams on Pandora and Spotify.
Besides being acknowledged by the National Academy of Recording Arts and Sciences for his work on Mandatory Fun, West is also a recipient of the Hawaii Music Awards (American Music Awards equivalent) and has been honored by the Hawaii Academy of Recording Arts with a Na Hoku Hanohano Award (Hawaiian Grammy) nomination, and is a two-time winner of the LA Treasures Award for his contributions toward the perpetuation of the Hawaiian slack key guitar.
West lives in Los Angeles and travels regularly to the islands to perform and also to relax. He also performs slack key concerts throughout the mainland US especially in the Southern California area.
Ojai native and resident Maryann Cord, Co-Founder & CEO of Cord International Media Group is producing the workshop and promoting the concert for Beatrice Wood Center for the Arts cultural programming. Cord International's Hana Ola Records is known as the first name in vintage Hawaiian music, a music recording and licensing company passionately dedicated to preserving, restoring and releasing lost real Hawaiian music, with a huge catalog of recordings.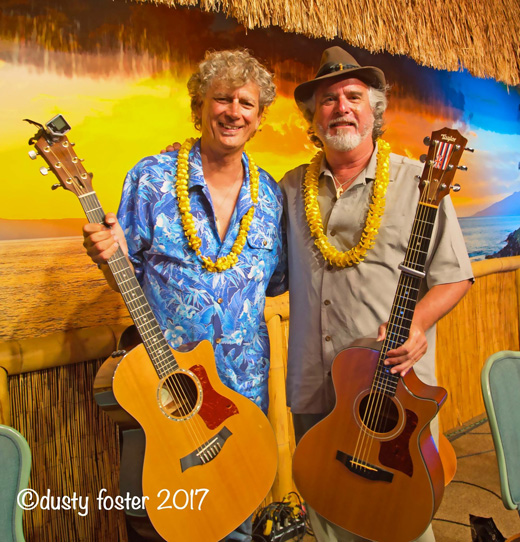 with Hawaiian Slack Key & Steel Guitar Legends
Ken Emerson & Jim Kimo West
with Special Guest Appearance by Kumu Rona Koe
Saturday July 7, 2018 / 7:00 pm - Doors open at 6:30 pm
Logan House
TICKETS: $25
Presented by Cord International Media Group
VIEW EVENING PERFORMANCE INFORMATION

The Beatrice Wood Center for the Arts
Tel: 805-646-3381, Email: BeatriceWoodCenter@gmail.com.

Our workshops and classes all take place at the Beatrice Wood Center for the Arts (driving directions).
Learn more about our workshops and view additional photos on Facebook. Click here!
Please call 805-646-3381 or email BeatriceWoodCenter@gmail.com for more information on our exhibitions, workshops, and performances.