Education
Previous Workshop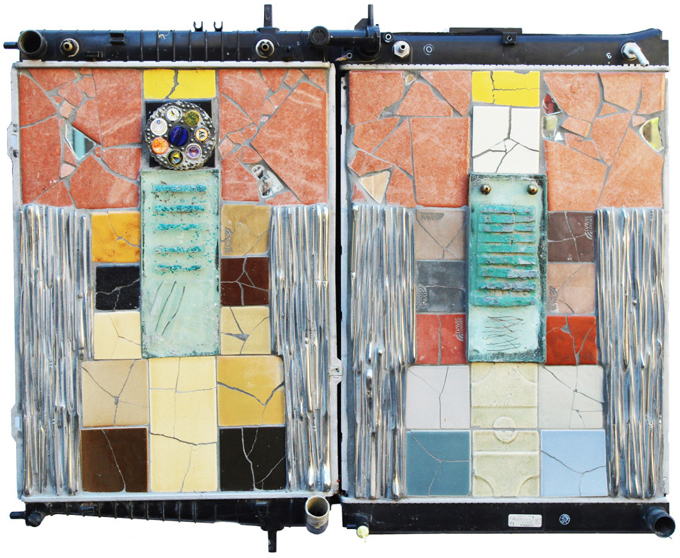 Gail Hercher
Mosaic Radiators Series | 52 & 55 Knives
In this workshop, participants will explore the process of mosaic, working in the Dada tradition of affection for repurposed and recycled materials. Mosaic Work is a meditative process that works well "as a cure for the madness of our age." (Arp) Participants will create a stunning and strange framed mosaic piece with one priceless artifact – a small luster-glazed clay piece cast from one of Beatrice Wood's original molds. This is an exciting way to celebrate the 100th anniversary of Wood's involvement in the New York Dada Movement and her continuing influence.
Following a brief discussion of the Dada movement, participants will learn about the world of mosaics and its special vocabulary, tools, processes and use of materials. Saturday will be spent planning designs after which tesserae (pieces of stone, tile, glass or other material used in construction of mosaic) will be attached to the substrate (base). On Sunday participants will grout their works, as well as consider its frame. Bring gloves and a hammer an any small, flat, inert, personal items to include in your mosaic (special beads, medals, etc…)
Gail Hercher
Mosaic Radiators Series | 49 & 23 Knives
About the instructor:
Gail Hercher, M.F.A., is an artist who has taught printmaking, papermaking, bookbinding, surface design, color, and paper crafts at many colleges, museums, schools and art centers, often using her book, 'Crafting With Handmade Paper,' as a text. Her work is featured in the book 'Mosaic Art Today' (Schiffer Publishing).
Cost $325 – includes a light lunch and materials
Reserve your space now!
Gail Hercher
Mosaic Radiators Series
For workshop registration, please contact:
The Beatrice Wood Center for the Arts
Tel: 805-646-3381 or email us at BeatriceWoodCenter@gmail.com.

Our workshops and classes all take place at the Beatrice Wood Center for the Arts (driving directions).
Learn more about our workshops and view additional photos on Facebook. Click here!
Please call 805-646-3381 or email BeatriceWoodCenter@gmail.com for more information on our exhibitions, workshops, and performances.