Education
Previous Workshop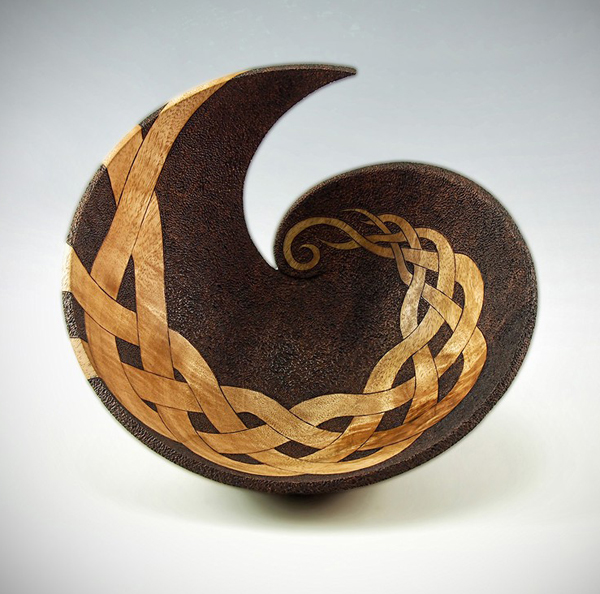 Bowl by Sharon Doughtie | 2017
In this two-day workshop, experienced woodturners, as well as those who want to explore the potential of wood as an artistic medium, will learn new approaches to design and surface textures.
On Saturday, Sharon Doughtie will focus on the embellished bowl. She will turn a bowl and show simple ways to alter it by cutting, carving, burning and coloring, including carving feet. There will be a demonstration of the knotwork designs that Doughtie is known for, and instruction on making burning tips. Color and finish compatibility will also be discussed.
On Sunday, participants will go "off grid" with some burning on flatwork and, woodturners will be able to bring bowls they've turned, with a discussion of working on curved works. There will be a demonstration and discussion of shape, examining what works and what doesn't. Doughtie will present a slideshow, sharing how inspiration is all around us and there is never a shortage of ideas. Kevin Wallace, Director of the Center, will join her for a slideshow about the trajectory of work and how we all start somewhere and grow from there.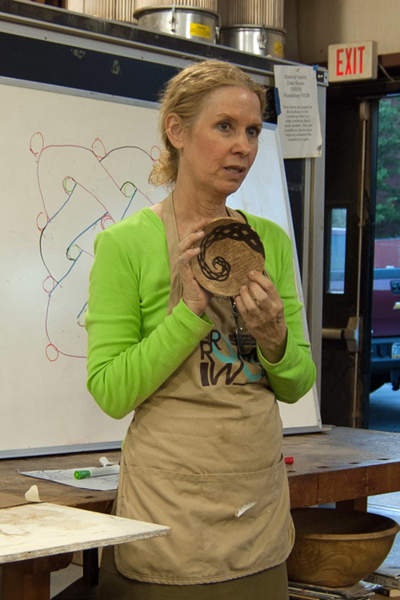 Sharon Doughtie Teaching a Workshop
The workshop will be presented in the Center's new Harvey Rich Woodworking Studio. It can be taken on one or both days, as the first day will focus more on the woodturning process, while the second day will be more expansive, taking the woodturners deeper into the artistic process, while presenting the opportunity for artists inexperienced with wood as a medium to work on wood panels.
Cost:
One Day: $125.00
Both Days: $225.00
Includes wood panels for those new to wood, and a light lunch.
Reserve your space now!
One Day for $125:
Both Days for $225:

For workshop registration, please contact:
The Beatrice Wood Center for the Arts
Tel: 805-646-3381 or email us at BeatriceWoodCenter@gmail.com.

Our workshops and classes all take place at the Beatrice Wood Center for the Arts (driving directions).
Learn more about our workshops and view additional photos on Facebook. Click here!
Please call 805-646-3381 or email BeatriceWoodCenter@gmail.com for more information on our exhibitions, workshops, and performances.